---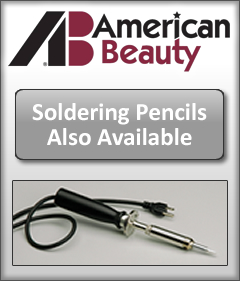 Soldering pencils can come in handy—and can at times be a necessity—when the work you're doing absolutely has to be precise. The points on the soldering pencils are extremely fine and delicate, allowing for the detailed work required in things like circuit board design. No matter what job you're tackling, let American Beauty provide the tools you need to get it done and get it done right. At americanbeautytools.com we have a wide selection of soldering equipment including soldering tips and other accessories that are crucial to turning out quality soldering work.
Choose Soldering Pencils For The Perfect Precision
When you're working on a large-scale job, larger soldering irons and tips are the obvious better choices, as they're designed to handle the big jobs. Bur for those applications where precise joints are imperative to keep from damaging fragile electronics, specialty tools such as soldering pencils are the way to go. The small parts that can efficiently and effectively be joined with this more precise tool are typically in close quarters in addition to being easily damaged. When working on just these types of projects, American Beauty's skilled and knowledgeable techs are a great resource if you have any questions about the project or the soldering equipment tools themselves and are happy to talk with you on the phone via our toll free number (800-550-2510) or by email (info@americanbeautytools.com).
When you're shopping for any type of soldering iron or accessories, americanbeautytools.com is the first and last soldering supply site you'll visit. With our quality products and our dedication to excellence, you won't be able to find better tools or better support anywhere in the world. We even have a repair and refurbishment service to help with regular maintenance of your tools. We go the extra mile to give you quality tools, service and substantial savings that all add up to your satisfaction.