---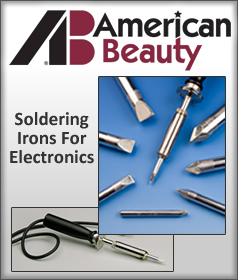 Any long time electronics expert can tell you that soldering with electronics is a difficult job. All of the components on motherboards or circuit boards are fragile, which is why you need high quality soldering irons for electronics. The cramped spaces and tight connections make it extremely difficult for anyone, even an expert, to ensure a good, even application of solder. The right soldering iron tool can make or break your soldering experience, so even if you are just soldering electronics as a hobby, you need to make sure that your tools are up to par. And if electronic soldering is a key part to your business model, making sure you have tools that will do the job right is even more important.
Use Soldering Irons For Electronics That Don't Break
So what should you be looking for when it comes to soldering irons for electronics? You need the right tools first of all; a small, temperature controlled iron is the best starting point. The right iron makes the difference between a good joint and a circuit failing completely. When you have the right tool doing the job you know that the other parts of the circuit are protected from excessive heat and that your joint will hold for years.
But finding those correct tools can be extremely difficult. But that is why places like American Beauty exist. When you need the right tool for the right job, and that job involves soldering, then there is no reason that you need to visit any other store. American Beauty has been providing soldering irons and tips for American workers and hobbyists since 1893, over a century of quality craftsmanship and experience. So when you are looking for soldering irons for electronics, there is only one place you need to remember; American Beauty. We can help you find all of the tools you need for any kind of project; we guarantee it.