---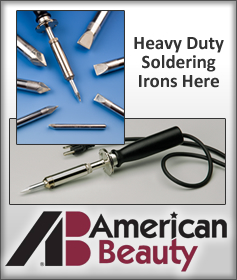 A soldering iron heavy duty and sturdy, is an important component of any tool box. The American Beauty soldering iron melts the solder with heat so that it can meld two elements. Our soldering irons are durable, sleek, and can perform hard soldering applications for all of your projects.
If you find yourself making repairs, installing various items, or you work with electronic projects often, purchasing a soldering iron may be a good idea for you. American Beauty offers some of the top quality, most affordable soldering irons in the market. A soldering iron, heavy duty and affordable, can be hard to find. American Beauty makes it easy for you.
Your Soldering Iron For Heavy Duty Applications
With our soldering irons, you can control the temperature and regulate the voltage level to fit your specific needs. Our soldering iron, heavy duty, is also relatively safe. We designed our soldering iron to cool within seconds so that our customers have fewer chances of burning themselves. Our soldering irons are constructed with easy replacement in mind, which means that your tools can last for generations of heavy duty soldering. Once you make the initial investment, you have a dependable tool that will last you for years.
American Beauty has you covered for all of your soldering needs. In addition to a soldering iron, heavy duty products are also available to you through us. Whether you need an ergo iron, stations and controllers, soldering tips, thermal stripper, solder pots, or other accessories, we can supply you with exactly what you need.
Another reason why folks choose American Beauty products is that they are all backed by our generous warranty. We offer our customers a 3-year warranty on all American Beauty items. A soldering iron heavy duty, yet subject to break, is completely backed by the manufacturer within a 3 year period, which gives our customers confidence and peace of mind.