---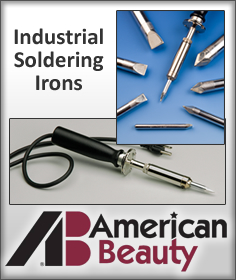 American Beauty is the top supplier of industrial soldering irons for durable, long-lasting industrial soldering jobs. From basic soldering irons to ergo and resistance irons, americanbeauty.com is the source for not only the irons but other soldering supplies and accessories, as well. We are committed to being the leader in the industry for soldering tools and have dedicated ourselves to providing top quality customer service as an added bonus. In addition to the superior equipment you'll find at americanbeauty.com, we happily provide tech support and a top of the line repair and refurbishment service to help you along the way.
Industrial Soldering Irons For Your Projects
It's good to know that if you routinely run seams with industrial grade sheet metal, flashings or copper down spouts and the like, American Beauty has industrial soldering irons for just such applications. Our 300 watt iron, like all of our irons, isn't just your average soldering tool.
It is heavy-duty and specifically designed for seaming sheet metal and similar materials. This industrial soldering iron was created with optimal heat transfer in mind, assuring even solder flow. It also means less time spent on a project, so your production line will flow smoother.
Striving to be the best and set the standard for quality made in America products, American Beauty assures our high-performance industrial soldering irons are the only ones you'll want to use in your business. If ever you have questions or concerns about a project or an American Beauty product, our customer support and techs are here and happy to help. Call or email to let our experts weigh in on your questions. It is a matter of pride to ensure that not only have we put a quality, durable tool in your hands, but that you will be able to operate it with no problems—and that you'll proudly recommend American Beauty.