---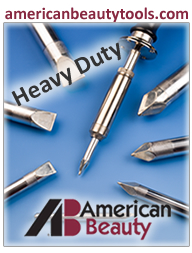 Are you looking for a top quality desoldering iron at an affordable price? American Beauty has you covered. Not only do we offer the best prices on desoldering irons, but we also offer some of the best ergo irons, soldering tips, and thermal stripper in the market. Making your own in-house repairs is now easy and convenient, thanks to the American Beauty desoldering iron.
Whether your project is big or small, the desoldering iron will not disappoint. Whether you are making repairs or performing installations, a desoldering iron is going to help you with all of your projects. We have desoldering irons so small that they will help you solder on areas that are hard to navigate.
Our Desoldering Iron Kits Are Available Now
The desoldering iron allows you to control your own temperature and regulate the voltage level to fit your specific needs. We also crafted the iron to be relatively safe for our customers to use. The iron actually cools within seconds of turning off so that customers do not have to worry about burning themselves.
The best part of going through American Beauty is that we have soldering technicians that work closely with customers to evaluate their current soldering process. They help customers identify the causes of whatever problem area they are encountering and help them find a solution. Most of the American Beauty desoldering irons incorporate a modular design. This allows you to make repairs around your house such as heating element, thermostat, and cord set exchanges using soldering equipment.
Our desoldering irons are made to last. If needs be your desoldering iron does need a repair, we offer an excellent repair service. Your purchase is supported by a manufacturer warranty, up to 3 years on all American Beauty items. This warranty gives our customers confidence in choosing us for their soldering products. Give us a try today.