---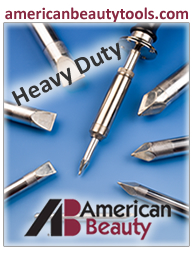 Society today seems bent on replacing things rather than repairing them, and that just does not seem right. The right tool can save you a lot of money by fixing whatever is broken, and when it comes to soldering irons, many times the only thing you need to fix your iron is something as simple as a new soldering tip. But there are just not many companies left that believe in helping their customers fix their tools rather than just selling them a brand new apparatus any time their old stuff breaks down. And that is a shame; when all you need is a quick soldering equipment repair job and you have to buy a new tool it just feels like a waste of money.
A Soldering Tip Helps For Specific Projects
Which is why when it comes to replacing parts with your soldering tools all you need to do is take a look right here with American Beauty. Our tools are all designed to be able to replace parts that wear down or break. Whether you just need a new soldering tip or need to replace an entire coil, your replacement parts are right here. We have been around the block a time or two; after all, we have been in the soldering industry since 1893. We know how to build quality parts that will make your soldering jobs easier and more efficient.
And while you are looking for a new soldering tip maybe you can find some other kind of tool you need, whether it be a new station, resistance equipment, or even just a soldering gun. The sky is the limit, and whatever kind of equipment you need, we can help you find. You should not have to settle for replacement when a simple repair will do; get your next soldering part right here at American Beauty.