---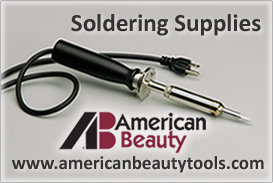 In the current economy, it should come as no surprise that the cost of soldering supplies continues to rise. On the other side of the coin, if you use low quality soldering tools, you will also wind up paying the high cost associated with ruined electronic components. Unfortunately, you do not think carefully about these factors when shopping for soldering supplies. No matter whether you need resin, solder, or soldering equipment, failure to look for good quality products will only cause more misery as you go along.
Get the Best Soldering Supplies
Consider a situation where you purchased cheap soldering supplies. If you purchase solder in bulk, you are likely to find that it will be filled with useless residue. In fact, if you routinely work with a solder pot, you are sure to find an enormous amount of waste floating on the top. Aside from wasting money, you will find that substandard soldering tools and supplies will prevent you from doing a good job. This includes requiring higher voltage soldering irons, as well as creating joints that will not conduct electricity properly. Needless to say, this can easily ruin any board that you happen to be working on.
Tools For Soldering You Can Trust
Each day, thousands of electronics repair professionals feel extreme distress when a circuit board printing melts or some other problem causes damage to onboard chips. In many cases, even if the repair person has excellent soldering technique, substandard soldering supplies will cause all kinds of problems.
This is just one of many reasons why we are proud to offer the following:
We carefully screen all soldering supplies to make sure they will suit a wide range of needs
You can always ask us which soldering supplies will work best for your application
We can ship to just about any location in the world with ease and efficiency

If you are looking for high quality soldering supplies, simply fill out the form below. We will be more than happy to provide you with a free quotation on soldering tools as well as soldering supplies.