---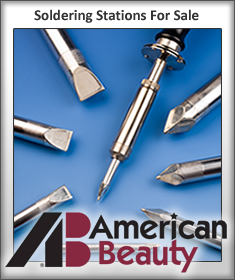 American Beauty has some of the best quality soldering stations for sale on the market. It is the perfect compliment to your toolbox for making repairs and can prove to be one of the most beneficial tools you own! American Beauty offers the best, long lasting soldering stations that you can continue to use for years.
American Beauty offers soldering stations for sale that can bond two elements together in literally seconds. A soldering station consists of a power supply along with a soldering iron. Our soldering irons allow the customer to control the voltage setting. The higher the voltage, the faster the two elements can bond together. This feature allows you to use your soldering iron on a variety of projects. We have designed our soldering irons to work well on the smallest parts, as well as on heavy castings.
We Have Soldering Stations For Sale Now
American Beauty products have the reputation of offering quality, top of the line craftsmanship, while also boasting some of the most affordable prices as far as soldering stations for sale go.
We had safety in mind when we designed our soldering tools. Our resistance soldering units, for example, were designed to cool within seconds of turning off, to lower the chance that our customers burn themselves. Other soldering stations for sale do not offer such safety considerations to their customers.
Our customers appreciate that American Beauty backs all of their products with a 3-year warranty. We are more than happy to fix any defective or broken soldering unit for our customers. You can also take advantage of our refurbishment service, which includes our team of technicians who can perform repairs on any broken merchandise. Few other companies offer such a warranty and/or refurbishment service to their clients.
American Beauty offers a variety of different soldering irons, ergo irons, stations and controllers, soldering tips, thermal strippers, solder pots, and other accessories.