---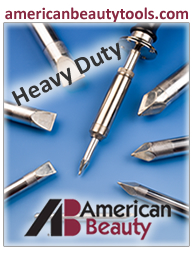 For a quick yet effective soldering job, the answer is to use a resistance soldering iron. In professional soldering, it is a must and will provide advantages you might have only dreamed of. At americanbeautytools.com you'll find a complete line of resistance soldering systems that are head and shoulders above equipment you'll find anywhere else in the world. That may sound like a bold statement, but at American Beauty our confidence in the equipment we sell justifies the claim. We back it up with a warranty as well as world-class customer service and repair and refurbishment services all aimed at assuring you have the superior tools you need for your professional soldering projects.
Using A Resistance Soldering Iron From American Beauty Tools
The advantages of using resistance soldering irons are numerous. The increased strong heat these irons utilize cuts the solder time exponentially. This means no more operational bottlenecks and a smoother production line process. The joint quality increases with resistance soldering and there isn't as much opportunity for thermal damage to surrounding areas when soldering. The light weight hand pieces cool quickly, reducing the risk of burns using resistance soldering. And with electrodes that last longer than soldering tips, you won't be replacing consumables as frequently.
With a 50 year track record, American Beauty is proud to bear the "Made in the USA" label, giving professional soldering the best tools available. When you offer the wide selection of hand pieces and electrodes we do, when you have the finest, most skilled technical expertise behind you, and when you can offer the best, most durable resistance soldering iron on the market, you have every right to be proud. At americanbeautytools.com, that is who we are and offering the best in soldering equipment is what we do. Come to us first when you're in need of equipment or repairs. We always guarantee your satisfaction.