---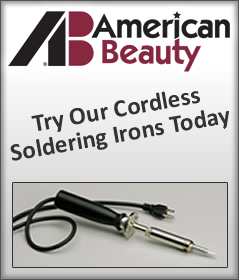 If you've ever found yourself in a situation where working with an electric soldering iron is difficult because the cord is trailing around, making the tool unwieldy, then its time you considered a cordless soldering iron. Sometimes maneuvering into a tight spot can be difficult if you've got a cord tailing off the back of your equipment. There are also times when you might not have access to a power supply, making your soldering iron essentially useless without a way to heat it. In just such cases, gas powered or battery powered soldering irons are the solution, allowing you to go anywhere, work in a range of areas and not have to deal with finding a power supply or struggle with the power cord.
A Cordless Soldering Iron Solution For You
You'll find a large selection of soldering irons at americanbeautytools.com. We know that not every job requires the exact same equipment. American Beauty brings an assortment of soldering irons and various accessories to you to help you get the job done, no matter what it is. When you've decided that a gas powered cordless soldering iron is the way to go, it's good to know that the gas used is butane and can be easily refilled with the same butane aerosols that every day cigarette lighters use. Knowing your iron can be quickly replenished adds to the overall convenience of the tool and makes it the best soldering iron on the market.
The cordless soldering iron also has a variety of tips, making it a multipurpose addition to your resources. When you can change out the tip on a tool that isn't anchored to a power source by a cord, there's almost no job that you won't be able to conquer. No matter what you're looking for in soldering irons or tips or other accessories, American Beauty holds a commitment to excellence that guarantees your success.