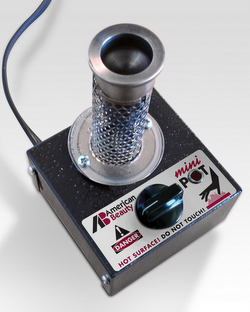 theMiniPOT - Small as a Thimble...but way cooler.
theMiniPOT lets you have a solder pot at every work station.
Many of our customers recognize the benefits of solder pots, including the ability to retin solder tips, pre-tin small parts and tin the ends of stranded wire leads, but fail to incorporate them into their soldering operation. The most common reasons we hear are that solder pots are too big, take too long to heat up and are too expensive. The same question would be asked, time and again, "Why don't you make a little pot that heats up quick and doesn't cost a fortune?"
In response to this repeated request, American Beauty is proud to introduce our latest solder pot offering; theMiniPOT (Model MP-9). Featuring a 2-1/2 oz solder crucible and powered by a tiny 135 watt heating element, theMiniPOT fills the void in the current solder pot market. TheMiniPOT features enough power to go from solid to liquid in under 6 minutes, yet incorporates controllability into the design, allowing the user to operate it at multiple temperatures. The grey cast-iron crucible makes theMiniPot perfectly suitable for lead-free soldering, an absolute must in this day and age. Also included in the design is safety features such as a run light to warn when the pot is under power and a 3AMP breaker for circuit protection.

And possibly the best feature....the price. Starting at only $169.00, theMiniPOT (Model MP-9) is a must buy for your soldering operation.