---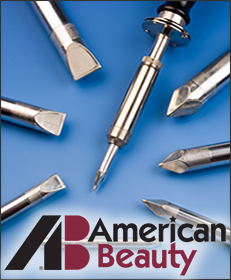 Soldering is a vital process in electronics and electrical work. Whether you are manufacturing or performing repairs, americanbeautytools.com has the quality tools to assure your job is done well and done right. The durable irons and accessories available at American Beauty are perfect for high-grade bonding jobs including production lines. The American Beauty brand is designed to be tough and sturdy and to be used specifically in demanding manufacturing environments. If you have a need for a tool that can stand up to a constant challenge of exacting work, the instruments found at americanbeautytools.com are exactly what you are looking for.
Choose The Best Soldering Equipment Available
American Beauty is a leader in top of the line tools including soldering irons, ergo irons, and stations and controllers. But we don't just give you the basics and leave it at that. You will also be able to find accessories like tips, pots and thermal strippers at americanbeautytools.com, as well. American Beauty is dedicated to excellence and will go the extra mile to make sure you have the tools and the knowledge to do your job well. We take pride in being a source for tech information on everything from the basic applications to equipment calibration and verifications. We provide free in-house testing and evaluations and are proud of our world-class repair and refurbishment service.
You can try, but you won't be able to find a better-built soldering iron anywhere other than americanbeautytools.com, nor will you find better customer support and service. When your business depends on the quality of your tools, make sure you get them from American Beauty. Not only do we stand behind all American Beauty equipment with our warranty, but our repair service is unmatched in quality, quick turnaround time, and the savings you can realize by repairing instead of replacing a perfectly good tool.