---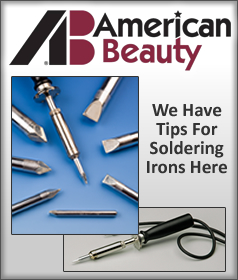 American Beauty has the right soldering iron tips for the right job, no matter what you're working on. We know that in order to do quality work, you need to have quality tools and the place to find them is americanbeautytools.com. That quality assurance starts at the core where we begin with solid copper, adding any number of the finest alloys, treating our tips with nickel plating, pre-tinning and chrome, just to name a few. Our extra care with the processes gives you a tip that is long lasting and will outperform any other tip on the market.
Choose From Many Soldering Iron Tips
When your business is soldering, you need soldering iron tips that are resistant to corrosion, tips that can produce high thermal conductivity to allow you to solder effectively. American Beauty soldering tips are exactly the tips you're looking for. We carry the conical tips so useful for general soldering, but specifically handy for precision electronics with their pointed end, allowing you to direct heat effortlessly and accurately. The screwdriver tips at americanbeauty.com are vital in larger scale electronics jobs when you need to make big solder joints. And our chisel tips are essential when you're doing general wiring and working on electronics using soldering irons.
Whether you already tackle a variety of soldering jobs or are looking to expand to be able to handle either larger or smaller, more precision-conscious jobs, americanbeautytools.com can provide the soldering irons and the soldering iron tips for whatever your needs are. And just as with our selection of irons, we back our tips with our guarantee. Your satisfaction as well as your business's success is our top priority. We have the best techs in the business available to help you whenever you need assistance. We are proud to be the American made company with an unmatched track record for excellence.