---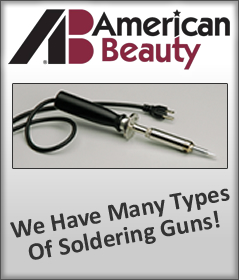 American Beauty offers some of the sleekest, top quality, and most affordable soldering guns available in today's market. When it comes to the finest, American Beauty soldering guns set the standard. A soldering gun proves to be a favorite tool in many of our customers' toolboxes.
Our Soldering Guns Are Great Quality
Our soldering irons are ideal for production-line environments. Whether you need a soldering gun for your hobby or for professional work, we can supply you with exactly what you need. Our soldering guns are perfect for all of your projects, whether they require installation, repairs, or electronic work. We designs gun so small, allowing you to work on tight spots and hard to navigate areas. Another benefit is how lightweight our soldering guns typically are. Our guns' heat capacities surpass the heat capacities of others in the market, allowing you to fuse even the heaviest castings. The heat can be turned down to solder small etched parts as well on each solder gun.
Additionally, Our soldering units were designed with your safety in mind. Each gun cools within seconds of turning off, reducing the likelihood that you will be burned. We also designed our soldering guns so that they are easy and convenient to clean.
Our soldering guns are covered under a 3 year warranty policy, ensuring that if anything goes wrong with the product, our team will happily swap it out and return it to you. We also offer a refurbishment service, in which we offer diagnostic work and repairs performed by our team of technicians.
The quality of American beauty soldering guns remain unmatched by any other company in the industry. Ordering American Beauty Soldering Guns cannot be easier. Give us a try today.