---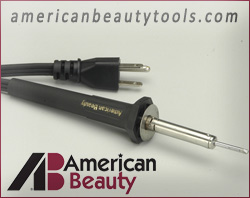 You probably have questions about buying a solder gun, and at American Beauty Tools we are here to answer some of them for you. Questions you have concerning wattage for specific types of projects, questions regarding the minimal wattage you should go for, and information about smaller projects are all provided in the following paragraphs. We hope you use this information wisely when making a choice in a solder gun.
What type of wattage should a solder gun have for soldering electronics? If you like to solder electronics then you want a solder gun that has wattage in the 15 to 30 watts area. High wattage irons can cause damage to some components though.
What about soldering glass stain projects?
If you like soldering stain glass projects you will need an even higher level of heat with your solder iron. You will want to aim for a iron that reaches watts of 80 to 100.
What should the wattage be for large soldering projects? If you like working on really large projects such as plumbing, you will require a really powerful solder gun. These are what will be referred to as a solder gun gun. The wattage in them is going to be 200 watts or higher.
What wattage should a solder gun have for small household projects? If you plan on using your solder gun for small projects around the house, then you will want to aim for one that has a low watts range. A low watt range should do just fine. If you plan on doing larger projects around the house try going for a solder gun that has more power.
What type of output do soldering irons come in the most? There are soldering irons available for everyday use that have a sufficient amount of wattage. The typical wattage of these might be 100 and 140 watts. You can find a soldering iron available for professionals that will have much more, about 200 to 260 watts.
There are even industrial versions available that will have up anywhere from 200 to 300 watts of power. A soldering iron that has adjustable wattage has a trigger that enables you to easily switch between the level of wattage you want.
What are Self Feed Soldering Irons and traditional Soldering Irons?
A self feed solder gun allows you to use one hand for the soldering process. A traditional solder gun will require you to use both hands, one to solder with and the other to hold the item. You should not be able to isolate the type of work you plan on using your solder gun for and be able to select one that matches perfectly with it. This is going to allow you maximum efficiency while at the same time ensuring you do not get a more powerful solder gun then you need.
Let us at American Beauty Tools be the company you get your solder gun from. Please Call 800-550-2510, e-mail info@americanbeautytools.com, or most importantly click on the link to order online.