---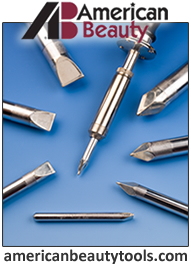 Heavy duty soldering tools are available from our online store here at American Beauty for your personal or business needs. Both home use and industrial use require soldering irons and pots that are of great quality so the job is performed top notch and the equipment can last for years to come rather than being forced to replace your equipment that begins to fail after only a few uses or a few months. Our mission here at American Beauty tools is to provide the best soldering kits, tips, and supplies on the market and offer them to you in our convenient online checkout so that ordering is simple as ever and you can have heavy duty soldering supplies delivered to your home or business within a few short days.
Our Heavy Duty Soldering Guns
American Beauty Tools is one source for all soldering related supplies. We stock everything from tips to beginner kits all the way up to more advanced items for heavy duty soldering that is performed for hours each day a different business locations. If you are serious about your soldering iron equipment and your job depends on it then shopping online with us is probably one of the best options you can choose for your business. For personal use we recommend our soldering irons as well since the irons you can purchase at your local supermarket simply do not add up to our heavy duly soldering irons in any way.
To contact us regarding our industrial or heavy duty soldering supplies please either send us an email or feel free to call. We have friendly customer service staff standing by to answer all your questions and even place an order if you are ready to do so. Stop wondering when your current soldering equipment is going to fail and try heavy duty soldering hardware and supplies from American Beauty Tools today.