---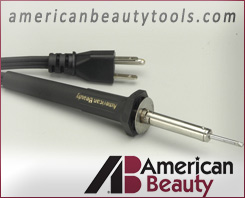 At American Beauty Tools we know that the best soldering iron has to meet specific criteria. But people also need to know how to find one and other critical information. We are going to help you out in this regard by providing you with information concerning how to find the best soldering iron, how to care for it, the wattage you should go for, and how certain models are shaped when they are more powerful.
What is a Good Way to Find the Best Soldering Iron?
A good way to find out what quality soldering irons are out there is to take to the internet looking for reviews. Be sure to read negative reviews and positive reviews to get the best soldering iron. This is critical, because if you are thinking about buying a soldering iron you want to have a good idea for what you will be getting beforehand.
How should the best soldering iron be cared for? You will want to make sure you are aware of how to tin the tip. This is going to help prevent problems such as corrosion. You will also want to make sure you do not abuse the product too much. If you are good at this one area, then you will prevent yourself from constantly having to purchase replacement parts, which in turn will save you a lot of money.
What is Going to be the Wattage for the Best Soldering Iron?
The best soldering irons are going to have different levels of wattage. You can find wattage as low as 15 to 25 watts, and then you can find some for up to 300 watts. The lower wattage irons are usually referred to as soldering irons, and the come in a stick like make.
What type of energy do soldering irons commonly use? The vast majority of soldering irons run on simple electric. Some of them are gas powered, and some of them use butane. These types of soldering irons are commonly used for the purpose of repairs in places where it is difficult to get access to electric service or where it is in hard to get to places.
How are higher wattage instruments usually shaped? Higher wattage soldering irons are commonly shaped in the form of a pistol. This is the reason why they are usually called soldering guns. Soldering guns usually have wattage that is 75 watts or above. The wattage does not decide what temperature the item can reach though. These types of irons can also be better when you are dealing with large projects.
You should have no problems after reading this information with selecting the best soldering iron for your use. At American Beauty Tools we provide any model of soldering iron you can think of and we have different power levels to help you handle whatever jobs you will be using them for primarily.
We offer some of the best quality around, and we want you to give us a chance to prove that now. Please Call 800-550-2510, e-mail info@americanbeautytools.com , or most importantly click on the link to order online.